Bowing in headlines for his controversial remarks on Delhi Gang-Rape Case, once again Spiritual Godman Asaram Bapu has courted another controversy by allegedly kick and abuse one of his devotees.
Reports hits on headlines, reads that Asaram Bapu lost his temper and kicked his devotees, who approached to seek his blessings.
Aman Singh, devotee of the godman told reporters, he was brutally kicked by the godman and his guards when he went near the spiritual guru to seek blessings after the sermon held in Madhya Pradesh's Vidisha district.
More shockingly, the controversial Bapu allegedly hurled abuses at him in presence of other devotees.
Mr.Singh further added, during his sermon, Asaram Bapu made several remarks hurting the religious sentiments of the society.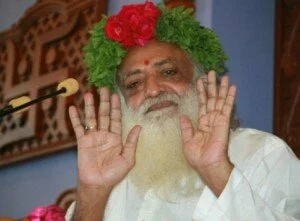 This is not the first time that Bapu bow under controversy. Asaram's name also made headlines for assaulting women or his devotees and grabbing government land for his interests.