Interestingly, the most gorgeous and the most beautiful veteran Bollywood actress, Zeenat Aman, who started the bold actress fashion in the industry with her film Satyam Shivam Sundaram, has found love again.
On Tuesday, it was first said in news that Zeenat Aman is planning to marry with a 36-year-old businessman from Mumbai, and Shiv Sena leader Sarfaraz Ahmed.
Later some source said, "Zeenat Aman had secretly married a local Shiv Sena leader Sarfaraz Ahmed six months ago at a Delhi five-star hotel, and has since been staying with him in his apartment in Mount Mary near Bandra."
But, on Wednesday, Zeenat Aman came in front of media and said, "Yes, I am in love. There is someone in my life, I won't deny it. But I am not getting married! Not right now at least. Yes, he has proposed to me. But I haven't decided to take the plunge as yet."
Meanwhile, the actress was first married to actor Mazhar Khan, who died in 1988, and has two sons Azaan and Zahaan. The veteran actress said, "No doubt my boys are my priority. Now there's this man. And he's serious about our relationship. He wants to get married, so I am thinking about it."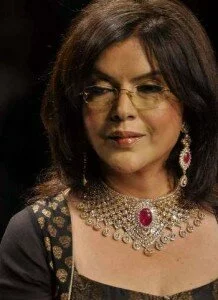 Further, Zeenat Aman said that her sons are happy for her, "At the end of the day they want to see their mother happy. Both my boys have just finished their education and are undecided about what they want to do with their lives. They have many options. One of my boys has studied culinary art and is also passionate about music. I will support them in whatever they want to do as long as they're happy."
She is also planning to make a comeback on the big screen.
Zeenat said, "I've a couple of offers. Let's see how it all pans out. If it's not worth my while then no point in doing it. In recent times, some of the roles that I did were not much liked by the audience. One did them because one is a single parent with a kitchen to run."
She added, "When it was my career I was fully into it. Then when it was marriage and motherhood I gave all of myself to them. And if there's marriage again, I'll be completely focused on it."