A big bash of BJP Sangh Parivar will produce at the Maha Kumbh Mela in Allahabad today  to revive Hindutva agenda as put up to the general elections 2014, shifting all focus back on the Ayodhya.
The party chief Rajnath Singh has already approached at the Kumbh today will join the Vishwa Hindu Parishad (VHP) -sponsored meet with top BJP functionaries Rashtriya Swayamsevak Sangh (RSS) and Sangh Parivar of top leaders.
Interestingly, the top brass of the RSS and the VHP will meet to debate over construction of Ram Temple in Ayodhya, reports said, a deadline is also to be set for Ram Temple issue that was once the main political plank of the BJP.
However, VHP has processed its activity, distributing the pamphlets related to Ayodhya at the mass holy congregation at Maha Kumbh.
Sources said that the original Hindutva mascot, Narendra Modi is likely to be in Delhi addressing young students on emerging business models, and would very soon join his companions to visit Allahabad on February 12 and take a holy dip.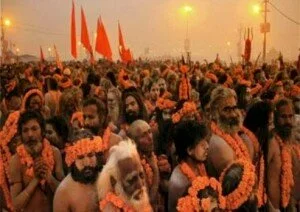 There will be also a meet of saints associated with Vishwa Hindu Parishad at Kumbh this afternoon in wake to get huge support for projecting Modi as Prime Ministerial candidate.
In a clear focusing manner, the VHP said that while Mr Modi "is a capable leader", the Kumbh meetings will not be used to endorse the Gujarat leader as BJP's candidate for the Prime Minister's post in 2014.
VHP effort to raise support for Modi-PM candidature has opposed by Uttar Pradesh ruling party SP who ahs warned to leave the Kumbh platform fad away from politics.
If the BJP leaders use Mahakumbh for politics, the state govt will stop them, Samajwadi Party leader Ram Ashrey Kushwaha said.