Standing himself as a strong visionary leader who can lead India's development, Gujarat Chief Minister Narendra Modi  today addressing  the youth at India's top college-Shri Ram College of Commerce on 'emerging business models in a global scenario'.
Modi called students the precious resource of the country, urged them to make India a global brand as it has to be needed to take Indian politics at right direction despite of being just a vote-bank.
Speaking over P2G2 model of governance – Pro-people good governance as of his State, Modi said, source said, "India must learn from global examples to become a global leader. The 21st century belongs to us. We just need to rebrand our country."
"Gujarat was a desert state, we depend on rains. In the past 10 years, the state has shown 10 % plus growth in agriculture. We are not a poor country. We are rich in natural resources. We just need to utilize them for an equitable growth," he added.
He further suggested to optimum utilize the skill of youth despite of treating as a vote bank as referenced to his rivals.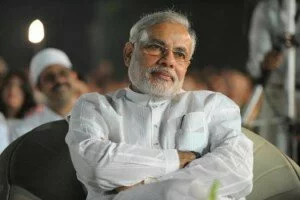 More than hundreds of students of SRCC college presented on the concluding day of the 'Business Conclave 2013′, to listen Modi who references Swami Vivekananda and Mahatma Gandhi to develop the comity of nations and Swaraj with the non-violence movement.
"Europe and China are ageing but India is a nation of youths. But our biggest challenge is to make the maximum use of the youth power," BJP leader said, calling the youths to be optimistic.
Despite Modi's speech pack with steps of success of India, a protest called by Members of the Left leaning All India Students Federation (AISF) outside the college against Modi's visit to the college, opposing Gujarat's development model.