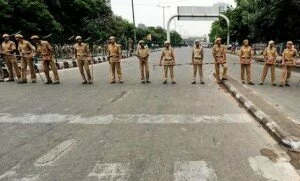 As per latest news, a bandh of 24 hours hit by all trade unions and government employees on Tuesday including major cities like Delhi, Mumbai and Kolkata on major issue of rising prices, disinvestment of profit-making PSUs and the violation of labour laws.
Due to this nationwide strike, participation of 11 trade unions across party lines along with 8 lakh public sector employees with the exception of those in the Railways struck out banking, transport and government services across the country.
Their main motive of strike to fulfill their past delayed demand of no contractorisation of work – permanent or perennial nature, amendment of Minimum Wages Act, assured pension for all and compulsory registration of trade union among others.
To ground the govt. down, trade unions including Congress-affiliated INTUC, Shiv Sena-backed Bharatiya Kamgar Sena and UPA ally Indian Union Muslim League's trade-wing STU would join hands and upto next 24 hours strike will be carry on.
Speaking about INTUC president G Sanjeeva Reddy, AITUC general secretary Gurudas Dasgupta said, Reddy is being the "most consistent fighter in our joint struggle".
Union leaders have refused the appeal of govt to discuss the issue by sitting together to desist from going on strike, reasoning to avoid all the opportunity by govt. in past to resolving any kind of labour-related issues.
In support of bandh, 5,000 small unions also decided to participate in the strike call. And that's why the chances of regular supply of electricity in city like Delhi, would be less.
Therefore to ensure no disruption in regular supply in national capital, the government has clamped ESMA on all power companies including generation, distribution and other power companies in view of the proposed strike.
Meanwhile, the outcome of the nationwide bandh called by a number of trade unions is to have completely blockage of telephone and transport services across nation including main cities of Assam, Kerala, Haryana, Punjab, Tamil Nadu and Bihar.