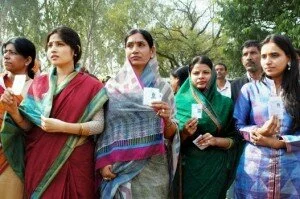 Amid tight security Sixth phase of poling in Uttar Pradesh for Assembly elections started today around 68 seats spread over 13 districts.
These include Saharanpur, Prabuddha Nagar, Meerut, Bagpath, Ghaziabad, Panchsheel Nagar, Gautam Buddha Nagar, Bulandshahr, Aligarh, Muzaffarnagar, Mathura, Mahamayanagar and Agra.
As per the Chief Electoral Officer, "Polling for the sixth phase of elections covering 68 Assembly seats spread over 13 districts started at 7 a.m. and would continue till 5 p.m."
For security of more than 2.17 crore voters, several thousands of troops have deployed along with installation of 1015 video cameras and 2353 digital cameras, ensuring a free and fair polling process.
During the ongoing sixth phase, voters who are expected to cast their votes at 22,137 polling stations at 12181 centres, will decide the fate of 1103 candidates, including 1017 men and 86 women. Out of 12181, 3188 centres and 4892 stations have been marked as sensitive
Poling of this phase is very crucial for all the political parties including Congress, SP, BSP, BJP and RLD that have done hectic campaigning in the Jat land of the state.
Congress' alliance with Ajit Singh led Rashtriya Lok Dal (RLD) would also test fate by contesting in election. He has stronghold in the western region of the state and this phase would decide his popularity.