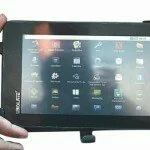 The world's cheapest Aakash tablet with more upgraded specification will be launch very soon as per, HRD Minister Kapil Sibal announcement on Sunday.
While addressing the first convocation of the Birla Institute of Technology and Science (BITS) in Hyderabad, Sibal told media persons, the Aakash project was rejected throughout the world, but Indian HRD ministry got it and landed the first version of the Aakash which costs Rs 2,276.
"Now, Aakash 2 has been rolled out with battery life of three hours, 800MHz processor, providing internet access everywhere and it has a capacitive screen. The process to distribute this device has begun and it would be formally launched very soon," Sibal added in his statement.
Upgraded version of Education- teaching oriented Aakash tablet is packed with a faster 800MHz ARM Cortex-A8 processor, a 7-inch capacitive display , 256MB of RAM and 2GB storage, a long battery life and many more improved features with educational apps.
However, Datawind manufactured Aakash's bad experience had been face by govt after its first launch due to many poor qualitative specifications, but after then new improved version of Aakash had been inaugurated by Sibal at IIT-Bombay for testing. Even more than thousands upgraded Akash-2 tablets will be announced to offer to engineering institutions and schools.