Amid controversies, Kamal Haasan's mega-budget flick 'Vishwaroopam', political thriller movie which has ban in Tamil Nadu is finally released in Hindi on Friday February 1 as per its schedule.
The film premiere released worldwide, excluding Tamil, on 25th January, 2013, and now ready in North India dubbed as Vishwaroop.
Reports said Kamal Haasan's direction, production and also written 'Vishwaroopam' is his ambitious Rs 100 crores costing project, being done business in UK and US.
Indications are that receipts of controversial Vishwaroopam on box office would be high as of publicity in form of politics controversy.
"It is very silly to say I got good publicity; India did not get good publicity. What is the use of me getting good publicity when India's name is being dragged in the muck?," Haasan said, source said.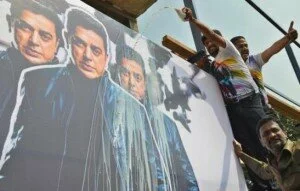 Despite Hassan's film banned in Tamil, but is to be said that in Mumbai a huge fans support would be there as the highest quarters of Bollywood including Salman Khan, Shahrukh Khan and Aamir Khan has raised their voice in support of Haasan.
Sources said that review about the movie found the film is not anti-Muslim, nothing in the film which hurts sentiments of Muslim community.
Haasan said Vishwaroop would make Indian Muslims proud.
Still deadlock over Vishwaroopam is on from Tamil Govt and now the actor is likely to face ban in Uttar Pradesh with Samajwadi Party leader Ram Asre Kushwaha demanding special screening of Vishwaroop before the release on theater in UP.
"I still have hope things may be settled with Tamil Nadu government. For now, I may wait before moving to Supreme Court," Mr. Haasan told reporters while asking about rejection on his move to SC against Madras High Court.