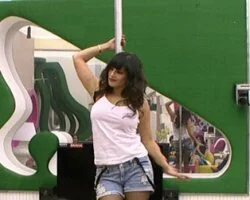 According to the fresh news from the Big Boss 5, Sunny Leone, the latest celebrity entered into the house, treated all the contestants to a "seductive as possible" pole dance.
The Indio-Canadian porn star, which hasn't exposed her x-rated profession to her Big Boss housemates, left the men open-mouthed while the girls giggled and clapped along.
The 30-year-old actor steamily kissed and embraced the pole as she jumped and slid with the moves of a pro to the song Ye Mera Deewanapan Hai, Ya Muhabbat Ka Suroor.