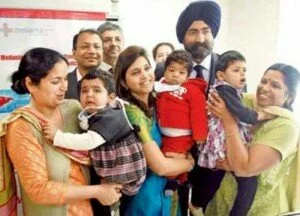 In Gurgaon's Medanta Medicity Hospital, New Delhi, Tejasree, Ansa and Anish named children who were suffering from liver disease, has successfully operated after having 20 hours operation with team of 40 doctors and 110 staff members.
Amongst them Ansa, 22-month-old lives in Kashmir and one-year-old Anish from Gaziabaad , both were suffered from biliary atresia.
The three-year-old Tejasree who brought from Gandhinagar in Gujarat had lead to Maple syrup urine disease (MSUD) due to which she could not digest even milk and had to only drink milk that their relative would send from the US which cost about Rs 50,000 a month.
However these families had not a matching donor from their family that would create fact more difficult. While these families together in Gurgaon's Medanta Medicity Hospital, then on basis of doctors' advice both fathers of Tejasree and Ansa agreed to swap their liver by using a recipients' organ for transplant because Tejasree's father's blood group was O-positive, while she was B-positive and Ansa's father had its reverse.
After permission granted by both parents, the team of 40 doctors conducted a chain of transplant surgeries in six different operation theatres (OT).
Medanta Institute chairman Arvinder Singh Soin said, "The six liver operations, each linked to another, all at the same time, were a marathon task. We performed the transplant on Christmas Day because it was a holiday and the OTs was largely not in use."
Parents of three children were glad when they knew successful running of operations that has give another birth to them by saving life of their kids.
Expressing her happiness Anish's mother Monica Kakroo said, "Our child has suffered two heart attacks earlier but survives. The opportunity to get this transplant done was a godsent opportunity for us and we want to thank the doctors who guided us."
As per P M Rangnathan, Tejasree's father, the operation of liver transplant cost each family more than Rs 15 lakh. Moreover doctors suggested three children's parents to bring them time to time in hospital for regular check-ups and would take proper meditation.