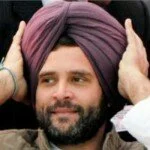 Congress party leader Rahul Gandhi today said at a university in Chandigarh that "Seven out of 10 youth in Punjab have drug problems.".
Sharing his views with people, Rahul Gandhi said the state government run by the collaboration of Akali Dal and BJP is not offering required opportunities to the youth's of Punjab.
Rahul Gandhi said, "We send scholarship money for SC, ST (Scheduled Castes/Tribes) categories. It is not utilized here (in Punjab) and is sent back."
Rahul Gandhi was dressed in a white kurta and jeans. Talking to media he said that recently a diplomat told him that as the 20th century was dominated by Saudi Arabia due to its oil reserves, india's 21st century has its young population and human resources.
He said, "We want you to come into politics, cleanse it and change it.
Rahul Gandhi was addressing youth workers at the Punjab University campus in Chandigarh.
"I have been in politics for eight years. One thing I see clearly, the level of participation of youths is not there. Whether in jobs, corruption, development, you are the solution. You have to run this country. You have the power and the knowledge to run it," Rahul Gandhi said.