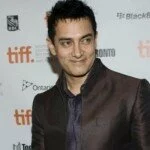 According to latest reports, the Mr. Perfectionist of Bollywood, actor Aamir Khan will be leaving for Haj on Friday morning along with his mother Zeenat Husain.
Aamir Khan recently returned from Chicago after completing his shooting for his upcoming film Dhoom 3.
He told media during the music launch of his new film 'Talaash', he said, "I am leaving for Haj and will be returning in the first week of November."
Reports have said that the actor recently asked his mother if he could get her a gift and she expressed her wish to go to Haj. Since, women can only go to Haj along with their husband, brother and son. And, Aamir Khan promised his mother to go to Haj.
The actor is very close to his mother and even more after the death of his father Tahir Hussain in February 2010.