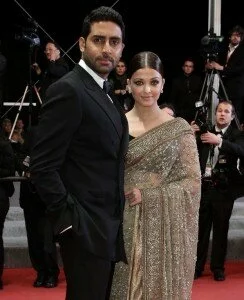 [Aishwarya Rai and Abhishek Bachchan] both are so glad with the born of a baby girl. Having busy schedule of 'Players' promo, Abhishek hardly got time to spend with his baby.
A source report said, when American chat show queen [Oprah Winfrey] visits India later this January and stay in Mumbai during her visit, Aishwarya Rai-Bachchan and hubby Abhishek Bachchan are likely to host an exclusive private party for her.
Confirming her visit in India last week, Oprah tweeted "Never been to India, it's been on my vision board forever (sic)."
However her travel to India will be for shoot her new chat show, Next Chapter with spiritual guru Deepak Chopra and she will also be a part of the Jaipur Literary Festival to be held from January 20 to 22.
After routing to Jaipur, Oprah will be in Mumbai where the Abhishek and Ash are likely to play hosts. The interesting fact is that Oprah is more excited on paying a visit to Abhishek Ash's newborn daughter, rumor rifes.
As per source's news said, "There is no official confirmation from the [Bachchans] about the party yet. The buzz doing the rounds is that it will be a very private affair. Details are awaited."
No doubt Oprah has known Ash very well since her first meeting with the chat show queen on Oprah Winfrey Show in the year 2005, where she gave Oprah a lesson on how to drape a saree.
In fact Ashwariya has hosted show as a guest twice. On second time the actor was invited on Oprah's show along her husband Abhishek in September 2009 where both had introduced as like the most popular celebrity couple – more popular than even Brangelina.