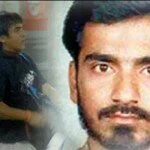 After being interrogated by Indian Police officers, Abu Jundal, a key planner of 26/11 Mumbai attacks who has alliances with around 10 terror groups, is highest ranked Indian in the LeT.
Source said, Abu Jundal alias Abu Hamza, whose real name is Syed Zabiuddin Ansari admitted in front of Indian interrogators that Lashkar-e-Toiba's links with the Indian Mujahideen (IM).
Being interrogation, Jundal said he has alliance with Pakistani national Mohammad Adil, an IM operative whom Delhi police arrested in November 2011 for his role in multiple terror plots in the German Bakery blasts in Pune, the Chinnaswamy stadium explosion in Bangalore and the Jama Masjid blast and shootout at Delhi.
According to reports, as per an officer, the Delhi special cell has booked Jundal in the same case as per Adil commitment that he was in touch with Jundal. He further added, "Ansari has been registered under the same case and has also been booked under the Passport Act and Arms Act."
Clarifying Jundal connection to IM, a source said, "Once SIMI was banned all its members came up with different groups and names but the same modus operandi and beliefs. IM was one such module and it would not be surprising for anyone associated with SIMI to be a member."
Jundal who was completely involved as a planner and executer in the 26/11 Mumbai terror operation 2008, also confessed that during attacks, he was in a control room near the international airport in Karachi, supervising by ISI officers and Lashkar commanders.
Source said, Jundal reportedly said, after Ajmal Kasab arrested, he travelled to Saudi Arabia on a Pakistani passport with a fake name, tried to erase all links to India. But US intelligence officials and India were alerted to him after tracking down his call to Pakistan by US.
"We identified him almost a year ago…it was a well-guarded secret…we tracked him. I think the world appreciates how India is going about tracking every one of the 26/11 masterminds," Home Minister P Chidambaram yesterday told reporters.
.
Now, having role in 2002, post the Godhara carnage riot, along with being an active SIMI member, it is necessary for Investigating agency to revive all past decade terror cases to check Jundal's link in them.