Parliament attack convict, Afzal Guru's hanging where a surprising move came from UPA government to Indian public, was also the biggest unknown tragedy for family of the mastermind of attack.
Guru's family claimed that a 'memo' informing the date of Guru's execution was reached at his home at Sopore only on Monday, two days after he was hanged and buried at Tihar jail.
Sources said, the letter was signed by the superintendent of Tihar jail No. 3 on February 6 was addressed to Guru's wife Tabassum and delivered through Speed Post from a New Delhi post office on the morning of February 8.
The letter reads that President of India has dismissed the mercy plea of Tabassum and hence the execution of her husband Mohammad Afzal Guru has fixed at the Tihar Jail in New Delhi on February 9.
"Our wounds reopened when the postman came with the letter. You can well understand how one feels in such a situation," Guru's family member told reporters.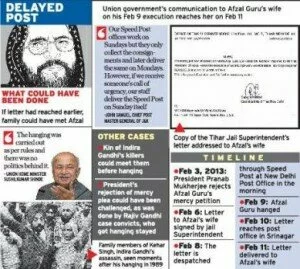 Shockingly, just after Guru's execution, the Union Home Secretary R.K. Singh interacted with media and confirmed that Guru's family had been informed of his execution through a letter sent by Speed Post.
But the actual thing is that the memo was written on February 6 just after two or three days after the mercy petition was rejected.