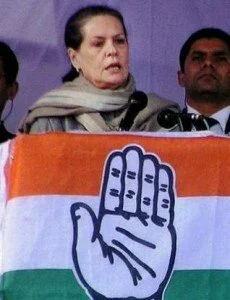 In Kapurthala Sonia Gandhi representing Congress Party attacked on Punjab Chief Minister Prakash Singh Badal for bidding only those who vote him.
Under his first rally she went to the Kapurthala district where first guru of Sikhism, Sh. Guru Nanak Dev ji spent 14 years for enlightenment during his stay at Sultanpur Lodhi, and Sonia picked out this topic to addressing the public crowd for attracting them to vote.
To ensure party's place in the district polls, she claimed that the SAD- BJP team were responsible for stopping the state's development by spending only Rs 526 crores out of Rs 5,000 crore earmarked for NREGA.
Criticizing Badal govt. she commented, "In an agrarian state like Punjab people had to throw their potato crop. This reflects poorly on the state government. Atta-Daal would have stopped had the UPA government not provided funds."
However Polls battle is between SAD- BJP and the Congress Party, this triangle war will surely impacts the schedule and atmosphere of Punjab.
Its sign was initially showed while Sonia was addressing the rally on Thursday; Akali Dal's workers were also come into streets for slogan against Congress Party with black flags.
In fact many Congress party leaders has accused under Corruption scandals and by blowing such issues in air the protestors claimed the Congress party for national disasters.
As per source , from the last five years Sonia and Rahul has not visited in district and at this time when Punjab has choose as one state out of five where assembly polls will be held on 30 January, the Congress party has come to share grief of public, that's why black flags were marching that denoted selfishness of Congress.