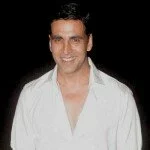 The Bollywood actor Akshay Kumar has become a proud father yesterday, his wife Twinkle Khanna gave birth to a baby girl, and Akshay get emotional after holding his newborn daughter for the first time.
Akshay Kumar's wife Twinkle Khanna gave birth to their second child, a daughter, at Breach Candy Hospital in South Bombay on Tuesday morning.
The actor posted of twitter wall, "There is no greater feeling in life than holding your baby for the first time. I wish I could express more about how HAPPY I am right now, but I'm at a loss of words."
Akshay and Twinkle already has a boy, Aarav.
Further, Akshay tweets, "I must thank you all for your love during this special time in my life – Proud Papa."
Talking to media, the actor said their daughter resembles her mother Twinkle Khanna, and grandmother, Dimple Kapadia.