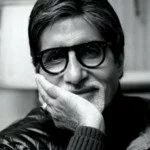 The biggest superstar of Bollywood, Amitabh Bachchan, who is very popular on social networking site, Twitter, has recently joined Facebook.
Amitabh Bachchan Facebook page has been launched just two days back, and the actor gets 1 million like on his official Facebook page. The actor has his past to present information on his profile.
Further, Amitabh has also added some unseen photos of his childhood, his kids childhood on his Facebook page.
In his welcome note on Facebook, the actor said that he was planning to launch Facebook page for long, but could find time only now.
Now, the actor gets connected with his millions of fans with Twitter and Facebook, he also has his own blog, where the actor shares his experiences and informationa with his fans and well wishers.
The complete team of NewsTopNight also welcomes the Amitabh Bachchan, Big B, on Facebook. He is the real Badshah of Bollywood.