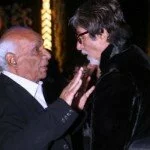 The Bollywood superstar Amitabh Bachchan who gave super hit film with legendary filmmaker late Yash Chopra like 'Deewar', 'Silsila' and 'Kabhi Kabhi', says the director died "too soon and too suddenly".
Amitabh has shared 44-years Bollywood career with Yash Chopra.
Filmmaker Yash Chopra died on Sunday, 21 October, due to multiple organ failure and dengue infection. Yash Chopra was cremated at Pawanhans in suburban Juhu later on Monday.
Meanwhile, Amitabh posted on his blog saying, "As I sit beside his still and flower decked body in his studio within the portals of the large common patio, there does not pass a moment when all that we shared flashes by."
Amitabh writes, "An association of 44 years abruptly comes to an end. He went away too soon and too suddenly. He deserved to be with us longer. Yash Chopra, a friend first, a creative legend later, has passed away this evening in the late hours."
Amitabh Bachchan remembered his last meet with Yash Chopra on his 70th birthday party. Amitabh said, "I last saw him on my birthday celebrations. He was indisposed and the doctors advised him rest, but he was insistent on coming over. He had made a commitment."
"It was his last public speech and appearance. His words still ring in my ear and what remains are the resonance of his goodness and feeling that he exuded towards me. Apart from his praise on my work, what he cherished most, was that I had been a good son and above all a good human being. Not many have made such observation. It was a moving tribute."
Amitabh added, "I have just one regret with regard to him. For some months lately, he had been calling and telling me to drop by in the early hours of the morning as I returned from the gym for 'just a chat — no work, no issues, just a chat' I had promised him that I would, and I never was able to."