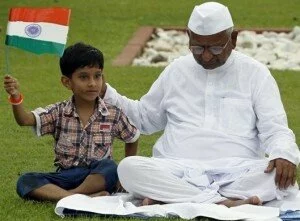 The social activist Anna Hazare and his team members are all set to go for on-day long protest tomorrow in New Delhi at Jantar Mantar.
The Delhi Police is also gearing up to take all required measures of it. A senior police officer told media that around 1000 police personnel will be deputed at the location of protest tomorrow.
In the meantime, Delhi police have allowed conditional permission to Anna Hazare and Team Anna for the protest. Team Anna will be holding protest against the killing of honest men and officers by illegal activities, mafia people and other terror activities.
Talking to media about the arrangements of Delhi Police, Additional Deputy Commissioner of Police Seju Kuruvilla said a legal undertaking has been taken from team Anna.
Mr. Kuruvilla said, "The organisers have confirmed the presence of the father of IPS officer Narendra Kumar who was killed in Morena district of Madhya Pradesh while intercepting a tractor-trolley carrying illegally-mined stones."
According to him, the family of Indian Oil Corporation officer Manjunath Shanmugam, who was shot dead in Lakhimpur Kheri, when he was trying to stop sale of adulterated oil, is also expected to take part in the day-long protest tomorrow at Jantar Mantar.
Delhi DCP also said that Team Anna has gave them information that around 40 such families will be present at Jantar Mantar whose kin were either killed by mafia or during terror attacks.
DCP Kuruvilla said, "We have told them that the crowd should not be more than 1,000 people. Around 10 metal detectors will be placed at three entry points with 1,000 police personnel to avoid any untoward incident."