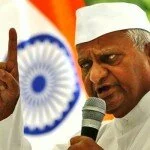 The social activist Anna Hazare has today reached at the national capital for a meeting with his supporters as well as activist to design the future plans.
Talking to media, Anna Hazare said that politics is dirty and it is not the right path to fight against corruption.
Meanwhile, Anna Hazare will stay in New Delhi for two-days, he reaches Delhi for the 1st time since his split with Arvind Kejriwal.
It is said in reports that Anna Hazare's meeting is considered as the setting of his blog post where he put the blame for separation squarely on Kejriwal-led pro-party group.
Further, source said that the meeting will be attended by Medha Patkar, Dr Sunilam and other important members. Anna Hazare will fly back to Ralegan Siddhi on Monday.
In his blog post, Anna Hazare said, "Politics has split." the anti-corruption movement and the pro-party group has gone against his will.
On the other hand, there has been reports that Anna is closing relations with RSS through Baba Ramdev to run his fight against corruption after he separated from Arvind Kejriwal.
Now, Anna said in his blog, "The movement was not divided in the past two years despite efforts by UPA government."