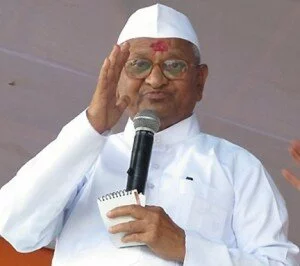 The Social activist Anna Hazare will get the award for his betterment he did for the rural development of the country, at an event in Delhi on Thursday.
Meanwhile, the award will be handed over to Anna Hazare by Delhi's Lt Governor's Tejinder Khanna with Rs 25 lakh prize and a citation.
In the interim, Team Anna will hold their core committee meeting also in the city in the second half of the day.
Anna Hazare returned to his native village Ralegan Siddhi on Feb 18 with core committee member Arvind Kejriwal.
Anna Hazare is going through an ayurvedic treatment at a hospital in Bangalore for persistent cough, backache and swelling on hands and feet.
For this, the social activist Anna ji left Ralegan Siddhi on January 29 and arrived at Gurgaon hospital for a complete check-up, after which he once again left to Bangalore on January 31 and was there till February 18.
On the other hand, Team Anna has been campaigning allover Uttar Pradesh during the present Assembly Polls asking voters to not vote for corrupt politicians.