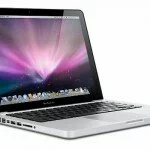 As per latest launch of Apple, its newest 15-inch MacBook Pro thinner will specified with a gorgeous Retina display, ready to catch the eyes of users across globe with its stylish look and light design having a mere 0.71 inches and weighing just 4.46 pounds.
Launching the all news thinner and lighter designed MacBook Pro, Tim Cook, Apple's CEO told reporters, "The new MacBook Pro is the most advanced Mac we have ever built."
In formation provided from media reports, the regular standard MacBook Pro is available with options of high speed processor as per user's requirement.
Apple's laptop computer that is powered by a 2.3 GHz quad-core Intel Core i7 processor with Turbo Boost speeds up to 3.3 GHz, 8GB storage memory and 256GB of flash storage, has initial cost of Rs 152,900.
The other option is with uphold version a 2.6 GHz quad-core Intel Core i7 processor with Turbo Boost speeds up to 3.6 GHz, 512GB of flash storage, is priced at Rs 192,900.
Interested users can also go with option with faster quad-core processors up to 2.7 GHz, up to 16GB of memory and flash storage up to 768GB.
The new Retina display MacBook Pro is available in 13.3- and 15.4-inch models with IPS technology, high pixel density that make text and graphics look stunning and 7 hours long battery with OS X Lion, but lack of an Ethernet port for Internet connections, only Wi-Fi can be use otherwise one have to buy an Ethernet adapter.
Moreover, such high priced Apple's MacBook Pro with all flash architecture and a radically thin and light design is expected to be the highest resolution notebook display. Users who want to purchase it will also get a free copy of OS X Mountain Lion when it comes in the market.