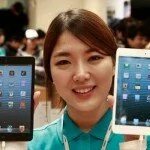 The biggest Tech Company Apple has today announced the launch of smaller version of the iPad mini in the country. It is said that the new Apple's iPad mini will cost around Rs 21, 900 for the basic version.
The new Apple's iPad mini is 23 percent slim and weighs 53 percent less as compared to the iPad tablet.
Reports published in Wall Street Journal state that the tablet computer has a 10-hours battery life for long usage. Further, the iPad mini version comes loaded with a 16-gigabit storage capacity and it allows the access of Internet via Wi-Fi networks.
However, the advanced version of iPad mini comes with 64-gigabit capacity, Retina display and internet access through both Wi-Fi and cellular networks. It will cost around Rs 41,900.
The newspaper said, "Apple will also start selling its latest fourth-generation iPad in India from Friday."
Meanwhile, Apple has put the price tag of Rs 31,900 for the base 16-GB Wi-Fi version and the most advanced version will cost around Rs 51,900 in the indina electronic market.