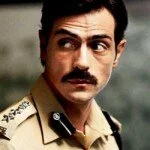 The Bollywood actor Arjun Rampal has worked superb in Prakash Jha's 'Raajneeti'. He played a role of a politiciesn int eh film and Arjun Rampal is now one of the most favourite actors of filmmaker Prakash Jha.
The actor is doing a new film with Prakash Jha and will be seen as a cop in 'Chakravyuh'.
Talking to media, Arjun Rampal said, "Yes, and I am happy to call this as my pet baby project of the year. I have put a lot into it and working with my favourite director Prakash Jha is anyways something different."
He said, "I always thought that if at all I had to play the role of a cop, it had to be with him. Now I would be working in his 'Satyagraha' next."
Further, the actor is doing another film 'Ajab Gazabb Love', playing a double role in the film, also releasing on the same day with Chakravyuh, on October 24.
Now, this means audiences will get three characters of actor Arjun Rampal to see by the end of this month.
The actor said, "'Ajab Gazabb Love' is totally Jackky's (Bhagnani) film. I have an interesting cameo in the film and that's quite a surprise element. I did the film out of love for Vashuji and Jackky. The clash shouldn't affect either of the two films."