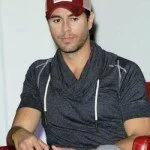 The much awaited live singing night is just few days away, when Spanish singing sensation Enrique Iglesias will perform live in New Delhi.
The Spanish singer Enrique Iglesias said he has lots in store.
Enrique Iglesias last performed live in India in 2004, but hi will be performing for the first time in New Delhi. He said, "I am very excited to come to India. Fans can definitely expect a lot of surprises and some great new production."
The Spanish singer promised good mix of hits such as Hero, Love To See You Cry, I Like It and Tonight (I'm Loving You). He said he wants to perform in India for years.
Enrique Iglesias said, "I've been trying to come back for a while, and just waiting for the right opportunity. Besides the show, I'm looking forward to the fans, who are so amazing and enthusiastic, as well as the great food."
The Spanish singer Enrique Iglesias will perform in Gurgaon's HUDA Grounds on Oct 19, followed by gigs in Pune and Bengaluru.
He earlier collaborated a song with Indian sensation Sunidhi Chauhan, Heartbeat.
He said, "I love collaborating with different artists and think it would be a great experience. I've heard many Bollywood songs, and seen many videos, and am a fan for sure."
The Spanish singer is presently busy with his new album releasing next year, "hopefully Spring".