Bharti Airtel on Friday has launched an emergency alert service for its female subscribers, allow to alert family and friends in an emergency.
The emergency hotline service has introduced in Kolkata, Bengal and Odisha.
Dialing an Airtel helpline number (55100) or also send alert through SMS by typing HELP to 55100 will send across alert SMS and a recorded voice message to predefined list of 10 numbers with location details of the customer.
During an emergency, Airtel mobile customers can now send an alert simultaneously thrice in 30 minutes to all the 10-odd recipients simultaneously with just a call, Airtel said.
"We are primarily targeting the women subscribers with this service. The service will be free for the first 30 days and then chargeable at Rs 30 per month," Vir Inder Nath, COO, Kolkata and West Bengal told reporters.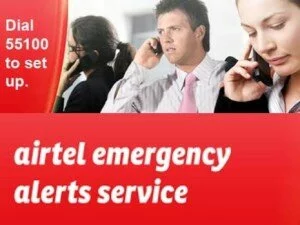 Aiming to help people especially women in dangerous situation such as Delhi gang rape incident, Airtel has offered emergency service with a subscription of Rs 30 per month.
Although the service is out of police helpline administration, the company claimed in talks with the local police to ensure a single number for making emergency calls.