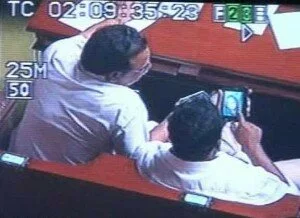 Most embarrassing and shocking news is that it was not just 3, but 16 MLAs who had watched the porn-in-assembly of the legislature house panel on that embarrassing day of February 7, reportedly said by Nehru Olekar, a member of assembly.
This more harassing news revealed on Sunday while Nehru said, "During the course of our investigations we found that about 15 to 16 MLAs had watched it. All of them will be summoned to depose before the probe panel to present their defence in the light of the new findings."
Moreover being kept secret the name of MLAs, Chairman of the probe panel, Shreeshailappa Virupakshappa Bidarur, said the panel will submit its report by March 20.
Now after resigning three BJP opposition members — HC Mahadevappa, Amagegouda Bayyapur of Congress and Dinakar Setty of
JD(S) – from the panel, there will be Four member committee instead of the originally planned seven-member.
They felt a probe committee was not required as nothing wrong on part of the private channels which exposed the scandal during the assembly session.
The shit of is also put on face of Congress and JD(S) opposition party members along with the MLAs belonging to ruling BJP who watched it.