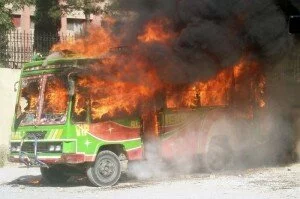 Recent ambush has happened in the peaceful region of northern Pakistani district of Kohistan where group of Sectarian gunmen have opened fire on a bus today, killing at least 18 Shiite Muslims people and injuring seven.
The most shocking fact was that seven or eight gunmen succeeded to stop the bus, forced the passengers to get off and then opened fire while bus traveled from the city of Rawalpindi to the northern city of Gilgit where Pakistan's army is headquartered.
As per source report, local police chief Mohammad Ilyas said, "Armed men hiding on both sides of the road attacked the bus." As per his statement, eighteen people have died and eight wounded.
Calling it a sectarian attack, an official source confined that all the victims were from the minority Shia community and it seemed that the attack could be the outcome of revenge over the murder of two Sunni Muslims a few days ago in Gilgit.
However no specific fact has still found to clear why the bus was being targeted, and also no Taliban group has taken responsibility to carried out the attack.
But for this ambush bus targeted, Human right activist group is criticizing the Pakistan government to have failure to crackdown on sectarian riot between the country's majority Sunni and minority Shiite Muslim communities.
Recent days, three bombs have targeted Pakistan's northwest that has killed thousands.
Though Kohistan borders the Swat valley, which had a significant Taliban presence in the past and this ambush took place close to the remote and mountainous area of Harban Nala, approximately 130 miles (208 km) north of the capital, Islamabad.