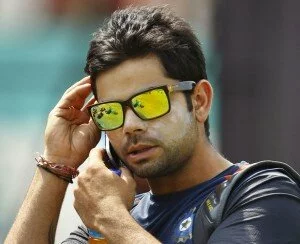 The upcoming star cricketer of the Indian cricket team, Virat Kohli has recently said in an interview that Australian tour was the turning point of his career which also made him mature as a cricketer.
Talking to media about his Australia tour, Virat Kohli said, "I knew that Australia was one tour that could make or break me. It was always going to be tough on the mind, very challenging."
Virat Kohli was talking to media during a function where he was introduced as Ambassador for ICC's partnership with Room to Read on Saturday.
He said, "You`ve got to be mentally prepared and obviously, you need to have game plans as well."
He said that he came to know about some news saying that he will be dropped from the team India due to his poor performance during the first two test matches against Australia.
Virat Kohli said, "After the first two Tests, people started saying, `Drop him, he doesn`t deserve to play in the XI`. My problem was I was reading a lot and I was paying attention to what was being said about me off the field, and not focusing on what I needed to do, so that sort of blocked me mentally."
He said, such news reports affected his game, but in the Perth test match, he went on the crease with a game plan and tried not to bother about what others are saying about him.
It is know to all that Australia tour was turned out to be the best tour of his cricketing career so far.
He became a super hero in India after his 133 runs knock against Sri Lanka in Hobart and just before the Asia Cup, he was capped with MS Dhoni's subordinate.