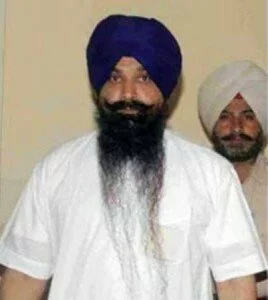 In yet another interesting move in the Balwant Singh Rajoana case, the SAD Chief Sukhbir Singh Badal has called an emergency meeting of the party's core committee on Sunday morning.
It is said in reports that the meeting is called after huge Sikh protest in the state and asking the state Chief Minister Parkash Singh Badal and the SGPC head to meet the President Pratibha Patil as to cancel the hang till death sentence to Balwant Singh.
Talking to media, Shiromani Akali Dal (SAD) secretary Daljit Singh Cheema said that Chief Minister Parkash Singh Badal and SGPC chief Avtar Singh Makkar will also attend the meeting tomorrow.
Addressing to media, Mr. Cheema said, "The core committee would deliberate upon the directive of Jathedar, Akal Takht pertaining to the case of Rajoana, a convict in the former chief minister Beant Singh's assassination."
The Sikh high priests, who met in Amritsar on Friday, had asked the Chief Minister Parkash Singh Badal and the SGPC chief Makkar to meet President Pratibha Patil and make efforts to save Rajoana from the gallows.
On the other hand, the Akal Takht, had also demanded SGPC President to meet the President and the Prime Minister to save Balwant Singh Rajoana, who is presently is in Patiala Jail and scheduled to be hanged on March 31.
Earlier, Shalini Nagpal, Additional District and Sessions Judge, Chandigarh, had issued a warrant of death sentence against the Babbar Khalsa internmatioanl terrorist Balwant Singh Rajoana.
Balwant singh and Jagtar Singh Hawara have been found guilty in the killing of former chief minister Beant Singh and was sentenced assassination case on August 1, 2007.
In addition, three more accused, Lakhwinder Singh, Gurmeet Singh and Shamsher Singh, were sentenced to life imprisonment for originating the conspiracy to kill Beant Singh.
Balwant Singh Rajoana did not appeal against the judegement.