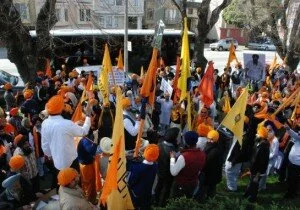 The row in the case of Balwant Singh Rajoana is getting heated in Punjab as well as allover the world.
The Sikh groups asking the respected Chief Minister Parkash Singh Badal and SGPC chief Avtar Singh Makkar to save Balwant Singh Rajoana from the gallows and demanding to meet the President Pratibha Patil.
In addition, number of Sikh organisations held protests in Jalandhar and Hoshiarpur on Sunday against the death sentence given to the prime accused in the assassination of former Punjab Chief Minister Beant Singh.
It is said in reports that huge number of Sikh youths in Jalandhar organized a protest march from Gurudwara Singh Sabha, Model town to Guru Nanak Mission chowk and then moved towards Nakodar chowk, the Dal Khalsa's youth wing – the Sikh Youth of Punjab (SYP) – held a 'Khalsa March' from Hariana to Hoshiarpur to express its solidarity with Rajoana, who is to be hanged on March 31.
Meanwhile, the Sikh Youth of Punjab rally was headed by its president Ranbir Singh and general secretary Manjit Singh. Showing banners and flags with Balwant Singh Rajoana's photographs, they raised slogans in favour of Khalistan and Balwant.
Previously, a conference was organized at Hariana to spot the anniversary of the Sikh warrior Baba Baghel Singh, who is credited with the unfurling of the Nishan Sahib atop the historic Red Fort in 1783.
In addition, a special CBI court had awarded death sentence to Rajoana and Jagtar Singh Hawara in the Beant Singh case on August 1, 2007.