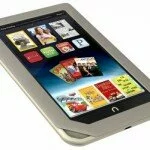 Barnes & Noble company slashes price of its three most impressive models of Nook tablet devices, maintaining as like price of Google's Nexus 7 and Amazon's Kindle Fire, entering the tablet war in the market.
Both Google and Amazon tablets are of 8 gigabytes, while Nook is 16 gigabytes double from them.
As per the company announced, cost of the 16-gigabyte Nook Tablet has cut down by 20%, or $50, to $199 from $249. In addition, another $20 off has also been offer on its 8 gigabyte version tablet to a final price of $179.
Simultaneously, Barnes & Noble also slashed $20 price of its Nook Color to $149 ans claims that Nook is its biggest product that helps to win 27 per cent of the US e-books market, while 60% is under Amazon, the biggest rival of company.
Reports said, sudden price cutting move of Barnes & Noble on various versions of devices has followed against Amazon which is likely to introduce its 7 inches Amazon's Kindle Fire 2 tablet- featuring as Google's Nexus 7.
Moreover, recent Barnes & Noble's price cut strategy that has implemented from Sunday will put negative impact on its earning as its revenue rate cut down by cutting price on various tablet devices.