Research in Motion is going to launch its much awaited new a Complete Touch BlackBerry 10 smartphones on January 30 at Gala Event in New York.
As per leaked details, RIM's BlackBerry 10 smartphone is touted at the BlackBerry Z10.
There are some leaked snapshots of this smartphone which reported to be unveiling in black and white colour. One of them shows the device with a red holster.
Some leaked pics show improved UI than previous Desktop suite that hints the replacement of the existing BlackBerry Desktop by BlackBerry Link, let's offer best users interference between the phone and a PC, reports said.
The Canadian smartphone maker has kept secret a lot about the specifications of its biggest launch of BB Z10 Smartphone.
Leaked rumours suggested that  BlackBerry Z10 is likely to pack with 4.2-inch screen with 1280×768 pixel resolution, powered by TI OMAP 4470 1.5GHz dual-core processor, 2GB RAM and 16GB of built in memory.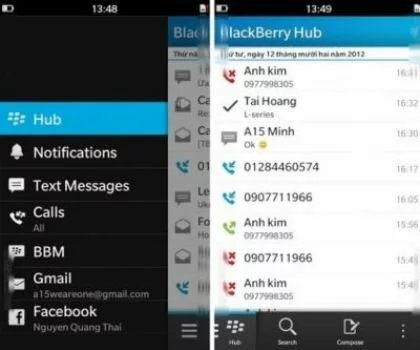 For camera features, the company will expected to be adding 8MP rear shooter with autofocus and a 2MP front facing camera with a 1,800mAh battery.
It has been also reported that Rim will starting the all-touch BlackBerry 10 smartphone retailing procedure in Canada from February 28 which will made available by telecom operator Bell.