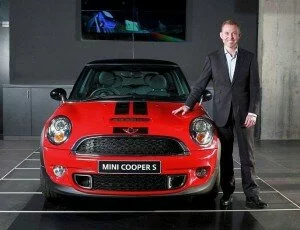 German BMW carmaker being launched its Mini range of vehicles as completely built-up units (CBUs) in India through the first dedicated dealership in the country.
Hitting its Century as debut, Mini is now available in India in five variants include Mini Hatch, Mini Convertible and Mini Countryman in petrol with six-speed automatic transmission.
The Luxury carmaker has planned to focus on brand building and standing with that Mini's models will be priced between Rs 25 lakh to Rs 35.9 lakh, Mini Cooper is being priced at Rs.25.50 lakh and Mini Cooper S Countryman High at Rs.35.90 lakh, ex-showroom all India.
At present, company has been dealing with 25 outlets, but it also thinks to add 4-5 more exclusive outlets pan India, in Hyderabad, Chandigarh and Bangalore at end of this year, while MINI showrooms in Delhi would come up next month of May.
However advance booking of 100 Infinity Cars has made by customers that would be deliver in May.
Introducing BMW's plans, Firms' Indian President Andreas Schaaf said, "We will not stop (here) and plan to expand further. We will have 5-6 exclusive MINI dealerships by 2012."
He further said, "By launching the new Mini ten years ago, we created the world's first premium small car brand. Since then, we have sold over two million Minis and converted the Mini brand from a single-model offer to a family of six models. Three of them — Mini Hatch, Mini Convertible and Mini Countryman — are now available in India. Our main focus this year will be to concentrate on successfully establishing the Mini brand in India."
Moreover, BMW Group is targeting CBUs of automobile market in India by investing around 180 crore here.
The company has rolled out its three superb amazing brands — BMW, Rolls Royce and Mini, establishing a production unit in Chennai, a parts warehouse in Mumbai and development of a dealer network across major metros.