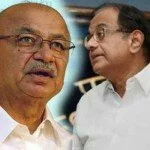 A little reshuffle in Union Cabinet formed and after Pranabh Mukherjee whose post had been temporarily holds by PM Manmohan Singh, now P Chidambaram is India's new Finance Minister, will take country's Financial challenges.
The Home Ministry is shift to Sushilkumar Shinde and his portfolio as Power Minister will handle to Veerappa Moily, Corporate Affairs Minister.
Government sudden decision came after a report briefed unacceptable inflation risk and now there are several challenges such as poor reforms, FDI investment, Inflation, Slow economy growth, bad policy that is paralyses, the eurozone crisis, the devaluation of the rupee and huge crude prices that new FM of India has to face and overcome.
Mr Chidambaram,66, has already well played his role as finance minister in the UPA 1 government, especially when in 2008 when India faced worse situation during global financial crisis. Then Chidambaram, with well tactics, handled the situation and came out India from worst of the financial meltdown.
Reports said, with a new Economic Affairs Secretary – Arvind Mayaram, Chidambaram will also assist a new chief economic adviser in a few weeks to replace Kaushik Basu as his tenure ends on Wednesday.
Although much expectation of market are from Chidambaram regarding cut off taxes issues, to address industry and foreign investors issue, but much disappointment can be expected from the opposition as BJP targets Mr Chidambaram for his alleges role in the 2G scam.
But BJP overall allegations have been ruined after appointing Chidambaram in the crucial finance ministry back, a victory of UPA-led-Congress.
Mr. Shinde, a prominent Dalit Congress minister from Maharashtra will now head Home Ministery despite the Adarsh Housing Society scam cloud and a rather lack lustre performance as power minister. From last two days country is facing worse black out power supple situation due to three inter-state transmission networks – Northern Grid, the Eastern Grid and the North Eastern grid- collapsed which affected more than 600 millions people lives.