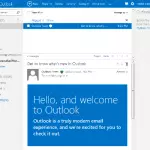 Hotmail is no longer the 'hottest' as Microsoft has pulled the plug on Hotmail to debut a new email service, known as Outlook.com which facilitates a cleaner user interface to more than 350 million users.
Now all Hotmail users would be switched to the new service Outlook.com. Just like world biggest search giant, Google's Gmail, it's easy to access email services of Microsoft's Outlook.com that have additional features and also assists contact information from popular social networking services such as Facebook, Twitter, LinkedIn and Google Plus.
Even the new service will also offer video chatting as to integrate Skype as Microsoft bought last year. Users can recognize emails with photos, documents or shipping information attached and sends these to pre-selected folders.
As per Microsoft's product manager Chris Jones announcement on its blog, Outlook.com enable users for sorting emails, automatic recognition of newsletters and much disturbing junk mail by using powerful tools.
Outlook.com comes with "unlimited" storage, offering free advertisements tools, but unlike Google's Gmail service, the company promised that it won't scan users content or sell it to advertisers as ads will not be related to the content of users' emails.
"Hotmail users that upgrade will use the same username/password to login; all their mail, contacts, and calendar items will still be available in the new user interface. Sometime in the future, we'll upgrade all Hotmail users to the new Outlook.com user interface," the company said while launching.
Launching its new email service, the giant is also providing its free Office suit Web Apps like Word, PowerPoint, Excel and OneNote, offering documents' editing from inbox.