Former Indian Police Service (IPS) officer, Kiran Bedi has come out to back the amended Lokpal Bill draft which has rejected by anti-corruption social activist Anna Hazare and Aam Aadmi Party convener Arvind Kejriwal.
The new revised Lokpal has addressed most of concerns which favourable for India, as per Bedi who tweet later night, said that giving up the opposition, it was time to move towards improvement.
She wrote on twitter, "It will do us no harm if we begin with proposed lokpal and v keep improving it as we go along!Being very high powered it will carry weight!"
Amend Lokpal draft cleared by the Union Cabinet on Thursday leaves political parties from its jurisdiction, appointment of Lokayuktas to States and extra protection for public servants as right to present their view to the Lokpal during inquiry, while issue of the CBI independence stayed.
The new bill rejects the appointment of CBI Director by a three-member collegium comprising the Prime Minister, Leader of the Opposition in Lok Sabha and the Chief Justice of India.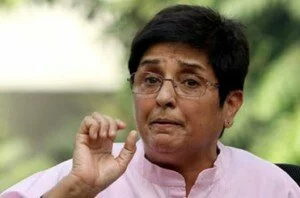 Amend Lokpal was a "farce" for Anna Hazare and said had no trust on UPA government, PM and Congress President Sonia Gandhi to bring a stringent Bill for creating an anti-corruption ombudsman.
Mr. Hazare rejected the amended Lokpal bill and threatened to launch another agitation if the government went ahead with the enactment of a "weak" legislation.
Otherside, AAP led Arvind Khejriwal also opposed the amend to provide legal assistance to public servants, said, "Why have you so much compassion in your heart for corrupt people. This is beyond understanding. It is because all these political parties have corrupt people," reports said.
"The entire law is to protect corrupt people. I challenge the government whether it can send even a single corrupt person to jail with this law," he further added, as per sources, accusing govt to pass the bill well short of their demands of a strong and independent lokpal.