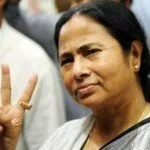 Latest political news states that the Calcutta High Court on Tuesday dismissed a plea seeking contempt proceedings against the West Bengal Chief Minister Mamata Banerjee.
Now, this will give some relief to the state chief minister.
However, the judges criticized of Mamata Banerjee's comments against the judiciary.
Mamata Banerjee had in the state assembly on August 14 and she said in a statement that judgments were being brought in lieu of money.
In the meantime, advocate Bikash Ranjan Bhattacharya had then moved court pleading that suo moto contempt proceedings should be initiated against the state chief minister for her statements.