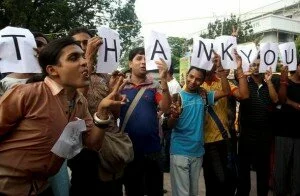 "No error in decriminalization of gay sex", the Centre told Supreme Court by conveying that the High Court verdict was correct.
Finally Centre who had opposed the verdict of High Court ruled "sex between two consenting adults of the same sex in private would not be an offence" has ceased to treat gay sex as illegal.
The apex court had asked Centre to take stand on homosexuality as the govt. had changed it one by one for being highly claimed gay sex to be "immoral" and "against the social order".
Clarifying Centre's stand over whether gay sex between adults is illegal crime or not, Attorney general G E Vahanvati said the Centre has fully accepted the Delhi high court verdict and no error in decriminalization of gay sex. The govt. didn't file appeal against it.
In 2009 the Delhi High Court had decriminalized gay sex between adults in private under Section 377 of the Indian Penal Code (IPC). That time Centre criticized Court verdict.
Vahanvati said, "Criminalization of gay sex is in violation of Fundamental Rights of homosexuals." He added, "When we read the judgment, we learnt from it and subsequent enlightenment."
Moreover the petition against Delhi High Court verdict decriminalizing homosexuality had been filed by anti-gay rights activists as well as political, social and religious organizations like All India Muslim Personal Law Board, Utkal Christian Council and Apostolic Churches Alliance.