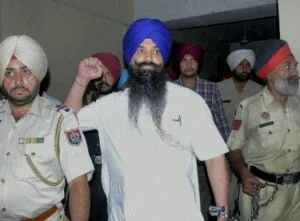 In a big crack-down on Balwant Singh Rajoana case, Centre ordered stay on the hanging of Rajoana, the main accused in the killing of former Punjab chief minister Beant Singh.
Earlier, the Chandigarh sessions court yesterday had rejected superintendent Lakhwinder Singh Jakhar's petition and issued a contempt of court notice on him, Patiala Jail superintendent however always said that he was "unable and disabled in law" to accept the death warrant of Balwant Singh Rajoana.
Superintendent Jakhar even told in media that he would move the Punjab and Haryana high court against the order.
Talking to media, superintendent Jakhar said, "Since two different appeals of two other convicts, Lakhwinder Singh Lakha and Jagtar Singh Hawara, in the same murder case are pending in the Supreme Court there is no question of hanging the third accused before the apex court decides on appeals of the rest of the two accused."
The Punjab and Haryana high court said, "In the meantime, dismissing a PIL seeking a stay on the hanging."
It is said in reports that if a sentence was given by a court, no other court apart from the court in appeal or revision could modify the order.
On the other hand, the special CBI court had ordered death penalty to Balwant Singh Rajoana and Jagtar Singh Hawara in the Beant Singh case on 1 August 2007.
Lakhwinder Singh, Gurmit Singh and Shamsher Singh were awarded with life imprisonment for hatching the conspiracy to kill former chief minister Beant Singh.
Reports have said that latter says that there was no need for anyone to seek clemency for him. Balwant Singh Rajoana also denied accepting any kindness from the BJP, Capt Amarinder Singh or from late CM Beant Singhs family members.
Rajoana handed over the latter to his sister, Kamadeep Kaur, and she gave the latter to Akal Takht.
The latter said, "I have fought for my rights all through my life. I do not want to give away my principles for anyone."