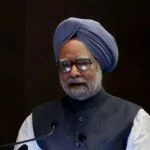 Breaking the silence on Coalgate scam allegations, benefiting private companies of Rs.1.86 lakh crore ($37 billion), today Prime Minister Manmohan Singh revealed his statement in Parliament both Houses, completely rejected CAG report on coal block allocations from 2004-09, terming it a disputable, based on baseless assumptions.
Taking the liability for Coal ministry decision on coalgate, Mr. Singh said in his 32-point statement, "I want to assure the members that as the minister in charge, I take full responsibility for the decisions of the ministry."
Amid shout and disruptive actions by BJP Opposition with PM resignation demand, Mr. Singh being disappointed, tabled his statement which briefed the govt. coal block allocation policies since 1993.
Attacking BJP, Mr. Singh said that during 1998-2004, the government was under the then Prime Minister Atal Bihari Vajpayee ministry, the BJP-led National Democratic Alliance (NDA) member, and also the coal bearing Opposition ruling states were strongly against this bidding, then how CAG authorities alleged that his government not speedily processed competitive bidding.
He also pointed out that the coalgate policy was introduced by previous govt since 1993, not his UPA government. With an ire reaction on CAG criticism to benefiting private companies, Mr. Singh clarified that that the Coal Mines Nationalisation Bill, 2000 that implement to provide commercial mining by private group companies was pending in parliament.
"My general practice is not to respond to motivated criticism directed at me. My philosophy has been "hazaaron jawaabon se achchi hai meri khamoshi'' (my silence is better than a thousand answers). But in this case I wanted to respond and was not allowed to,'' Mr. Singh told reporters, saying that he is ready for CAG's observations challenges which are flawless and based on the Department of Legal Affairs' selective record after the issue comes before the PAC.