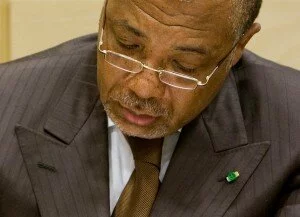 In the historical record, it is for the first time since the Nuremberg trials at the end of World War II that an international court convicted Liberian's head of war crimes.
The former Liberian President Charles Taylor on Thursday accused of aiding war crimes and crimes against humanity for heading Sierra Leone's rebels in return for "blood diamonds".
Liberian ex-president Charles Taylor is accused of providing arms, ammunition, communications equipment for Sierra Leone's Revolutionary United Front (RUF) rebels during a civil war that resulted death of 120,000 peoples between 1991 and 2001, according to the verdict of Judge Richard Lussick.
The trial process which began proper on June 4, 2007, dealt with some 94 witnesses who wanted to hold him behind the prison. One claimed that Taylor's fighters strung human intestines across roads, removed foetuses from women's wombs and practiced cannibalism, while children younger than 15 were enlisted to fight.
Source said, during hearing when the judge told Taylor that he was found in guilty of 11 charges including terror, murder, rape and conscripting child soldiers, there was no reaction from side of Taylor.
Moreover, the case is tabled a sentencing hearing for May 16 and said sentence would be passed two weeks later. And if he found guilty, then could be sentenced in four to six weeks and will serve it in Britain.
Elise Keppler of Human Rights Watch appreciated Court's verdict and said, "Not since Nuremberg has an international or hybrid war crimes court issued a judgment against a current or former head of state. This is a victory for Sierra Leonean victims, and all those seeking justice when the worst abuses are committed."
Meanwhile in Liberia, there is great anger in Liberians, all the peoples come into streets and demanding that the president have to be punished.
Taylor had arrested by Nigerian authorities in March 2006 while he stepping down as Liberian president three years earlier in a negotiated end to a civil war and he tried to flee from exile in Nigeria.
Then he was moved to the SCSL in Freetown and after that to Hague in June 2006 on the direction of a UN Security Council resolution, threatening of disturbance to the peace of west Africa due to his presence.