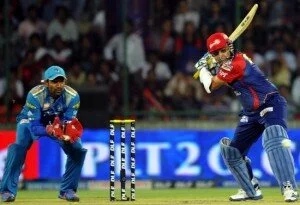 The leading team of this IPL season, Delhi Daredevils is all set to play against Pune Warriors India in the Indian Premier League match played at Subrata Roy Sahara Stadium, Pune 24 April 2012 – day/night (20-over match)
Sorav Ganguly led his team from the front in the last match played against Virender Sehwag led Delhi Daredevils. Pune will look to grab the top position in the points table today.
While Virender Sehwag would like to take revenge from Pune for their defeat of 20-runs in the last match.
The match will be live on Set Max from 4pm today.
Pune Warriors squad
SC Ganguly*, ER Dwivedi, MJ Clarke, AB Dinda, CJ Ferguson, RV Gomez, Harpreet Singh, DS Jadhav, Kamran Khan, M Kartik, HH Khadiwale, B Kumar, NL McCullum, AP Majumdar, M Manhas, AD Mathews, MD Mishra, AG Murtaza, A Nehra, MK Pandey, WD Parnell, S Rana, JD Ryder, MN Samuels, R Sharma, GC Smith, SPD Smith, Tamim Iqbal, AC Thomas, K Upadhyay, RV Uthappa, SB Wagh, LJ Wright
Delhi Daredevils squad
V Sehwag*, MC Juneja, VR Aaron, AB Agarkar, P Bisht, R Bist, GH Bodi, DAJ Bracewell, U Chand, AJ Finch, DPMD Jayawardene, GJ Maxwell, M Morkel, S Nadeem, Y Nagar, PT Naik, P Negi, NV Ojha†, IK Pathan, KP Pietersen, KC Raval, AD Russell, AM Salvi, LRPL Taylor, RE van der Merwe, Y Venugopal Rao, Vikas Mishra, DA Warner, TP Yadav, UT Yadav, Zafir Patel
Umpires S Ravi and RJ Tucker
TV umpire JD Cloete
Match referee Raju Mukherjee
Reserve umpire SD Ranade