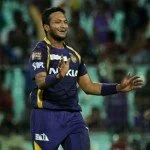 In a very interesting match yesterday, the Kolkata Knight Riders beats Rajasthan Royals by five wickets. The all-rounder from Bangladesh, Shakib Al Hasan was the hero of the match played at Eden Gardens at Kolkata.
He took 3 wickets for 17 runs in his 4 overs spell and then hit 16 valuable runs from 10 balls to help his team to a comfortable win. It was a low scoring match, but an interesting one.
Shakib Al Hasan was then named as the Man-Of-The-Match. He said during presentation, "The early wickets boosted my confidence and helped me settle my nerves. Whenever you bowl the first over, there are butterflies in [your] stomach. This was one pitch where I needed to bowl well and I did pitch the ball in right areas."
The six hit by Hasan was very important for hi team, that takes them to a win. He said, "There wasn't much pressure on me as we were close to run-a-ball and we needed just a boundary."
Further, speaking during presentation, KKR captain Gautam Gambhir gave full credit to his bowlers; Shakib Al Hasan and Sunil Narine bowled really in the amtch and restricted Rajasthan Royals to low score of 131 in limited 20 overs.
Gautam Gambhir said, "We always knew 120-125 would be a good total, but we had the batting to chase it down. They started well, but Shakib did well along with Narine, and later the batsmen like Jacques Kallis, Manoj Tiwary did well. Credit to Narine for the way he bowled the 19th over. He is a mystery bowler, who is difficult to play, and the ploy of keeping him for the end helped."
Though, the loosing captain Rahul Dravid said that 131 was a competitive score. He said, "We always knew it was a competitive score, but they [Kolkata Knight Riders] built up a partnership after an early wicket. We knew we had to go hard up front and set up a base. I believe the experience to play on these tracks will help the youngsters. Although we are not comfortable losing two in a row but hope to bounce back soon."