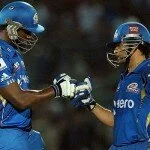 The record opening partnership between Dwayne Smith and master blaster Sachin Tendulkar has powered Mumbai Indians to a 10 wickets over the first IPL winner Rajasthan Royals.
The Indian Premier League match was played at Sawai Mansingh Stadium, Jaipur 20 May 2012 – day/night (20-over match).
Earlier, RR skipper Rahul Dravid won the toss and elected to bat first. Rajasthan Royals made 162 runs with 45 runs cored by Australian all rounder Watson.
Batting second, Mumbai Indians started their innings superbly and never looked back. Both the openers completed their fifties and led their team to a successful win of 10 wickets.
Sachin Tendulkar made superb 58 runs from 51 balls hitting six fours, and MOM winner Dwayne Smith made cracking 87 runs from 58 balls hitting ten fours and three big sixes.
However, Rahul Dravid led Rajasthan started their IPL 5 with a flurry of wins, but they ended with nine losses.
Presentation:
Dwayne Smith, Man-of-the-Match said, "It was a great privilege to bat with Tendulkar. I have been opening for some time now, it was not new for me. It is good to get some runs, it is crunch time in the tournament now."
Rajasthan Royals skipper Rahul Dravid: "162 was not a bad score. We needed early wickets but when batsmen like Smith get going, it is tough. A lot of positives this season. I am going to spend some time at home, I have enjoyed it here. It has been good fun. I will relax and see how life is out of cricket. I will take a call when I have to."
Mumbai Indians skipper Harbhajan Singh, "We are still trying to figure out who is the best partner for Tendulkar. Gibbs has done well in a few innings, Smith did well today. Our fielding was probably slightly better than what RR did today. We wanted to come out here and give it our best shot, and we did."
Scoreboard
Rajasthan Royals: R. Dravid c Karthik b Kulkarni 5 (5b, 1×4), A. Rahane c Rohit b Kulkarni 13 (17b, 2×4), S. Watson c Smith b Pollard 45 (36b, 4×2, 2×6), S. Binny (run out) 30 (17b, 3×4, 2×6), O. Shah (not out) 28 (24b, 1×4, 1×6), A. Menaria c and b Kulkarni 21 (20b, 1×4, 1×6), D. Yagnik c and b Malinga 6 (3b, 1×4), B. Hogg (not out) 0 (0b); Extras (lb-1, nb-2, w-11): 14; Total (for six wickets in 20 overs): 162.
Fall of wickets: 1-9 (Dravid), 2-31 (Rahane), 3-84 (Binny), 4-105 (Watson), 5-148 (Menaria), 6-160 (Yagnik).
Mumbai Indians bowling: R.P. Singh 3-0-32-0, Kulkarni 4-1-18-3, Malinga 4-0-32-1, Harbhajan 3-0-31-0, D. Smith 2-0-13-0, Pollard 3-0-29-1, Franklin 1-0-6-0.
Mumbai Indians: S. Tendulkar (not out) 58 (51b, 6×4), D. Smith (not out) 87 (58b, 10×4, 3×6); Extras (lb-2, nb-1, w-15): 18, Total (for no loss in 18 overs): 163.
Rajasthan Royals bowling: Chandila 2-0-24-0, Watson 3-0-17-0, Tait 4-0-40-0, Hogg 4-0-30-0, Trivedi 4-0-37-0, Binny 1-0-13-0.
Umpires HDPK Dharmasena (Sri Lanka) and SS Shamsuddin
TV umpire BNJ Oxenford (Australia)
Match referee Raju Mukherjee
Reserve umpire K Bharatan