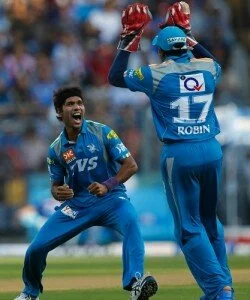 In a very interesting match, the low rated Pune Warriors has come with a remarkable performance against Mumbai Indians in a match played here at Wankhede Stadium in Mumbai.
It was medium fast bowler Ashok Dinda's, who lead his team Pune Warriors from the front taking 4 important wickets and giving away just 17 runs in his 4 overs spell.
The bowler struck twice in his very first of he match, which lead to Mumbai Indians loss in the match. Batting first, Pune Warriors were 129 for 9 in their limited 20 overs match.
But, Mumbai Indian managed only 101 runs with the loss of 9 wickets in their 20 overs match. Batting without Sachin Tendulkar, who was not playing the match due to hand injury, Mumbai never looked in the full command of the match.
Mumbai lost the wicket of Richard Levi early. Left-arm spinner Murali Kartik also impressed with his bowling taking 2 wickets and giving 14 runs in his 4 overs spell.
While talking to media, wining captain of Pune Warriors, Sourav Ganguly said, "The pitch was dry and I thought it would turn. It has been a good start all right, but it is a long tournament with 16 more matches to go."
He is leading Pune Warriors in the absence of Yuvraj Singh, who is ruled out of IPL 5 due to lung cancer
The Warriors now proceed to Pune to play their first home match against Kings XI Punjab on Sunday.
Pune Warriors: M. Pandey b Malinga 0 (5b), S. Ganguly st. Karthik b Harbhajan 3 (6b), W. Parnell b Munaf 11 (14b, 2×4), R. Uthappa c & b Pollard 36 (33b, 3×4), C. Ferguson (run out) 12 (13b, 1×4), S. Smith c Pollard b Munaf 39 (32b, 4×4), M. Samuels b Malinga 4 (4b), Bhuvneshwar b Ojha 2 (4b), M. Kartik (not out) 14 (9b, 1×4, 1×6), Rahul (run out) 0 (0b); Extras (lb-5, w-3): 8; Total (for nine wkts. in 20 overs): 129.
Fall of wickets: 1-0 (Pandey), 2-15 (Ganguly), 3-27 (Parnell), 4-47 (Ferguson), 5-91 (Uthappa), 6-102 (Samuels), 7-105 (Bhuvneshwar), 8-128 (Smith), 9-129 (Rahul).
Mumbai Indians bowling: Malinga 4-1-16-2, Harbhajan 3-0-16-1, Munaf 4-0-26-2, Ojha 4-0-23-1, Pollard 4-0-31-1, Franklin 1-0-12-0.
Mumbai Indians: R. Levi st. Uthappa b Kartik 0 (2b), A. Rayudu c Kartik b Dinda 1 (2b), Rohit c Uthappa b Dinda 1 (6b), J. Franklin c Ferguson b Dinda 32 (42b, 1×4), D. Karthik st. Uthappa b Kartik 32 (32b, 4×4, 1×6), Suryakumar Yadav b Samuels 0 (4b), K. Pollard b Rahul 8 (11b), Harbhajan lbw b Dinda 16 (15b, 2×4), L. Malinga c Uthappa b Parnell 5 (3b, 1×4), P. Ojha (not out) 0 (1b), Munaf (not out) 1 (2b); Extras (lb-1, w-4): 5, Total (for nine wkts in 20 overs): 101.
Fall of wickets: 1-0 (Levi), 2-2 (Rayudu), 3-5 (Rohit), 4-54 (Karthik), 5-64 (Yadav), 6-77 (Pollard), 7-88 (Franklin), 8-96 (Malinga), 9-100 (Harbhajan).
Pune Warriors bowling: Kartik 3-0-14-2, Dinda 4-0-18-4, Samuels 4-0-21-1, Parnell 3-0-18-1, Rahul 4-0-16-1, Bhuvneshwar 2-0-13-0.
Man-of-the-match: Steven Smith.