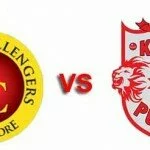 The Royal Challengers Bangalore is all set to take on Kings XI Punjab in the 25th match of the Indian Premier League match Played at Punjab Cricket Association Stadium, Mohali, Chandigarh 20 April 2012 – day/night (20-over match).
The Bangalore team is in full form and has better chances to win the match today. With openers like Chris Gayle and Tillakaratne Dilshan and then Virat Kohli and AB de Villiers down the order can really spark the opposite team.
Skipper Vettori has won the toss and elected to bowl first, Tillakaratne Dilshan is not playing today and Andrew McDonald has made a place in the team.
However, today's match would be must win for Kings XI Punjab, but the bad news is that Skipper Adam Gilchrist would may sit out in the match today. in spite of Australians batsman's such as Adam Gilchrist, David Hussey and Marsh, KXIP are not doing much in the IPL 2012.
David Hussey will lead Punjab team in the absence of regular captain Adam Gilchrist, who will miss the match today due to David Hussey will lead Punjab. Meanwhile, there is an amazing fact about Adam Gilchrist, who is missing his first competitive match in 16 years because of an injury!
Azar mahmood would be a key player for Kings XI Punjab today, KXIP would also need some support from the top order batman's if they want to in the IPL 5.
Teams:
Kings XI Punjab squad
AC Gilchrist*†, P Awana, KJ Abbott, L Ablish, Amit Yadav, Azhar Mahmood, BA Bhatt, Bipul Sharma, PP Chawla, SD Chitnis, BCJ Cutting, P Dogra, JP Faulkner, Gurkeerat Singh, Harmeet Singh, RJ Harris, DJ Hussey, P Kumar, VS Malik, Mandeep Singh, SE Marsh, AD Mascarenhas, DA Miller, AM Nayar, RR Powar, NJ Rimmington, N Saini, SJ Srivastava, Sunny Singh, PC Valthaty
Royal Challengers Bangalore squad
DL Vettori*, MA Agarwal, KP Appanna, S Aravind, KB Arun Karthik, RR Bhatkal, AB de Villiers, TM Dilshan, CM Gautam, CH Gayle, M Kaif, AA Kazi, Z Khan, V Kohli, CK Langeveldt, AB McDonald, A Mithun, M Muralitharan, KK Nair, DP Nannes, R Ninan, HV Patel, AUK Pathan, LA Pomersbach†, CA Pujara, RR Rossouw, J Syed Mohammad, S Thiyagarajan, SS Tiwary, R Vinay Kumar, VH Zol
Umpires JD Cloete and S Ravi
TV umpire RJ Tucker
Match referee RS Mahanama
Reserve umpire B Vij