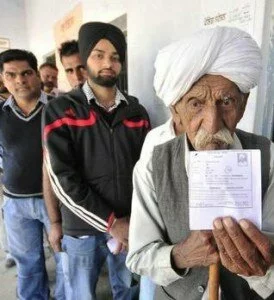 The high polling in Punjab and in Uttarakhand are of more than 70% and now next round of assembly elections goes to UP and smaller but no less hard fought showdown in Goa.
As compared to previous record, this year more enthusiasm showed in people for voting which resulted in massive turnout in Punjab and Uttrakhand polling. On Monday, early morning voters' response was less but as the day proceeds the numbers of voters had increased with a huge response in voting.
In Punjab, around 1,078 candidates were contesting and getting votes for 117 seats in assembly polls. The turnout in Punjab is estimated that of 77%, high as compare to 75% in 2007.
While in Uttrakhand, a big response was seen from people of State for voting 788 candidates for 70 seats. There was a massive rise in voting of 70 % than 59% in 2007.
The battle of fight in Punjab is between Chief Minister Parkash Singh Badal from Akalis and Congress's Captain Amarinder Singh while in
Uttarakhand, chief minister B C Khanduri who has a clean image and high personal credibility that ensured to provide him a large number of votes, has a tough contest with his Congress rival Surendra Singh Negi.
All are being awaited and worried to figure out what the high poll percentage for which party because it will decide seat for the party's candidates. But results will remain kept in secret till March 6 when votes will be counted.