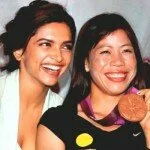 The Olympics medal winner in Boxing, Mary Kom and Bollywood director Sanjay Leela Bhansali has now reached to an agreement that he will make a film on her life.
Talking to media, first ever medal winner in boxing at London Olympics 2012, Mary Kom said, "The film is still in its infancy. So they wanted my inputs for the script and the rest of it, I leave it in the hands of professionals as they know the art of film-making better."
She hopes that film on her life would be an inspiration to new talent of the country, she said, "I hope that this film inspires aspiring sportspersons to take it up professionally and represent India at an international level."
The lady-boxer is basically from Imphal and a mother of two children, she said, "When I won the Olympic medal, I represented India. So, I want this film to bridge the gap."
She also announced that she would like to play a short role in the film to be helmed by Omung Kumar Bhandula.
Further, Mary Kom loves playing guitar and watching movies. Mary Kom said, "Shah Rukh Khan is my favourite in romantic movies and Abhishek Bachchan has a unique sense of timing for comedies."